This past July 2013, we had the privilege and the joy of hosting the Weingarten Family for a safari in Tanzania!
Tracey contacted Lucia back in September 2012, keen to find out more information about organizing a family safari, as she and her daughters were coming for a volunteering trip as well! We e-mailed back and forth, discussed potential itineraries, with different accommodation suggestions (as there are so many to choose from – and so important to know what you like, for instance if you prefer tented camps over permanent lodges, rustic or more towards the high-end of semi-luxury, etc.), and we finally came up with a 12 days & 11 nights Semi-Luxury Family Safari, tailor-made for Tracey, her husband Michael and her two daughters Alex & Lanie.
The parks and areas they covered were: Tarangire, Central & Western Serengeti, Ngorongoro Crater, Lake Eyasi, and 4 nights in Zanzibar, at Pongwe Beach!
The accommodation they chose were: Tarangire Safari Lodge, Ang'ata Serengeti Camp, Mbalageti Safari Lodge, Ngorongoro Wildlife Lodge, Tindiga Camp, Pongwe Beach Hotel & The Bay Leaf Boutique Hotel in Arusha for their day room use, the night before their early morning flight.
One of the memorable surprises on their trips, was Lanie's surprise 12th birthday party at Ang'ata Serengeti Camp. Her family, with our driver guide Kelly, and the wonderful staff at Ang'ata Serengeti Camp sang her the birthday song, along with a few traditional Swahili songs and dance, and it was definitely a night to remember!
Aside from all the uncountable variety of fauna & flora that they saw, their excellent driver guide, Kelly, also showed them thrilling, rare occurrences of leopard kills throughout their trip. Kelly, being not only the top guide at Safari Infinity is also much loved by all of our clients who's traveled with him, with his warm and charming personality, thorough knowledge of the parks and wildlife, and just a sincere love for his country and all that it embodies, so that all of our guests are able to feel and experience the Tanzania in a respectful, wonderful and unforgettable way.
We met with Tracey before and after their safari, and have come to enjoy their fun, loving presence with much contagious laughter during our two meetings. Being as thoughtful as they are, they brought gifts for the orphanage that we are supporting in Arusha (Norah's Child Care Trust), and we were so happy and thankful on behalf of Mama Norah and the kids for Tracey & her family's thoughtfulness and generosity! Before their safari, they also had an amazing few weeks volunteering at Foot2Afrika, an organization based in Moshi town, and all of them have been touched and changed through their volunteering experience and quality time spent with the children. We have a feeling that they will be coming back, as they practically now have "friends & family" in Tanzania!
Below is a slideshow consisting of just a mere few highlight pictures of their entire trip – enjoy!
A review by Tracey can also be seen here on Trip Advisor Tanzania Forum:
http://www.tripadvisor.com/ShowTopic-g293747-i9226-k6778727-Safari_infinity-Tanzania.html
Alex, scoping the Serengeti horizon with her camera
This is one of my favorite Baboon Family pictures
Baboons are always entertaining to watch. Look at this one, enjoying the free scratching session by the little one. Priceless.
A beautiful cheetah family in the Serengeti
Graceful cheetah
My, what big teeth you have!
What a beautiful picture of the mother and baby elephant.
Elephants are extremely dexterous creatures.. can you tell?
Towards the end of their safari trip, Tracey & her family visited Lake Eyasi, home to the Hadzabe Bushmen, as well as other local tribes in the area. They also participated in a morning hunting activity with the bushmen from 05:30am! Yes, this is exactly how they hunt!
A beautiful shot capturing the fierce, majestic hunting moves of the Hadzabe bushmen
A Hippo Pool. Beautiful & mesmerizing to look at.. but you wouldn't want to take a dip inside…
Here is Kelly, with Michael and Lanie & the Safari Infinity Jeep in the background!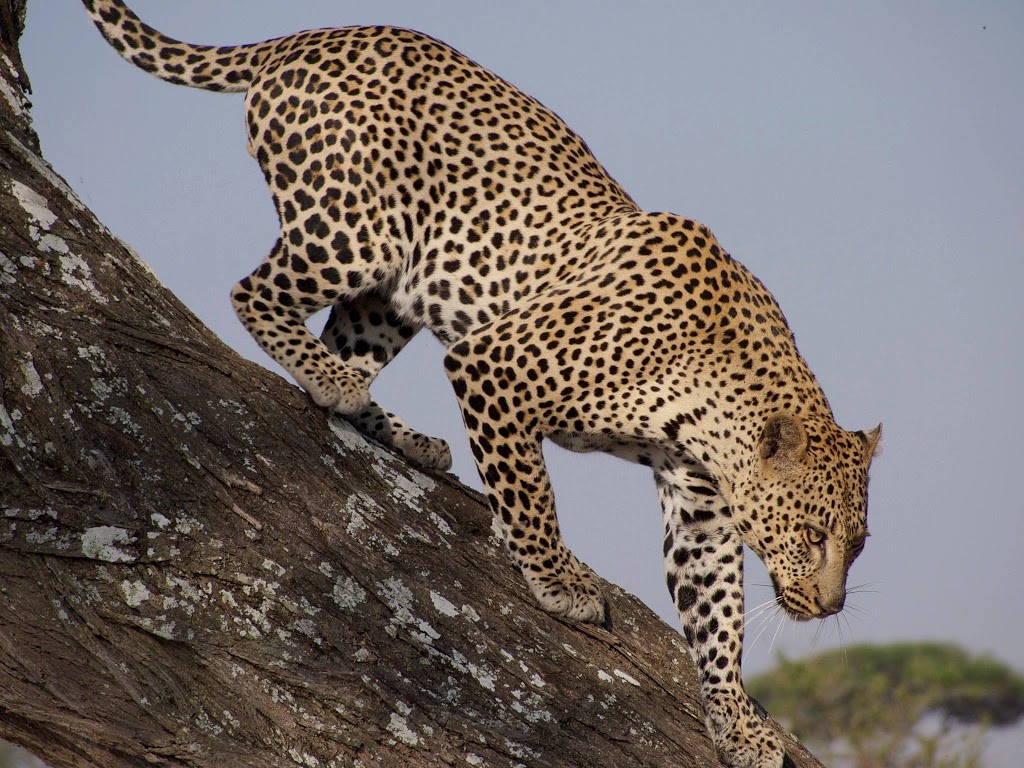 The following pictures are a sequence of a leopard hunt and kill, a very rare action to spot, in such a close proximity! Note the clarity of all the photographs. They can vouch for themselves. Here, in the first picture, you can see the leopard climbing down the tree, in a ready-to-attack hunting posture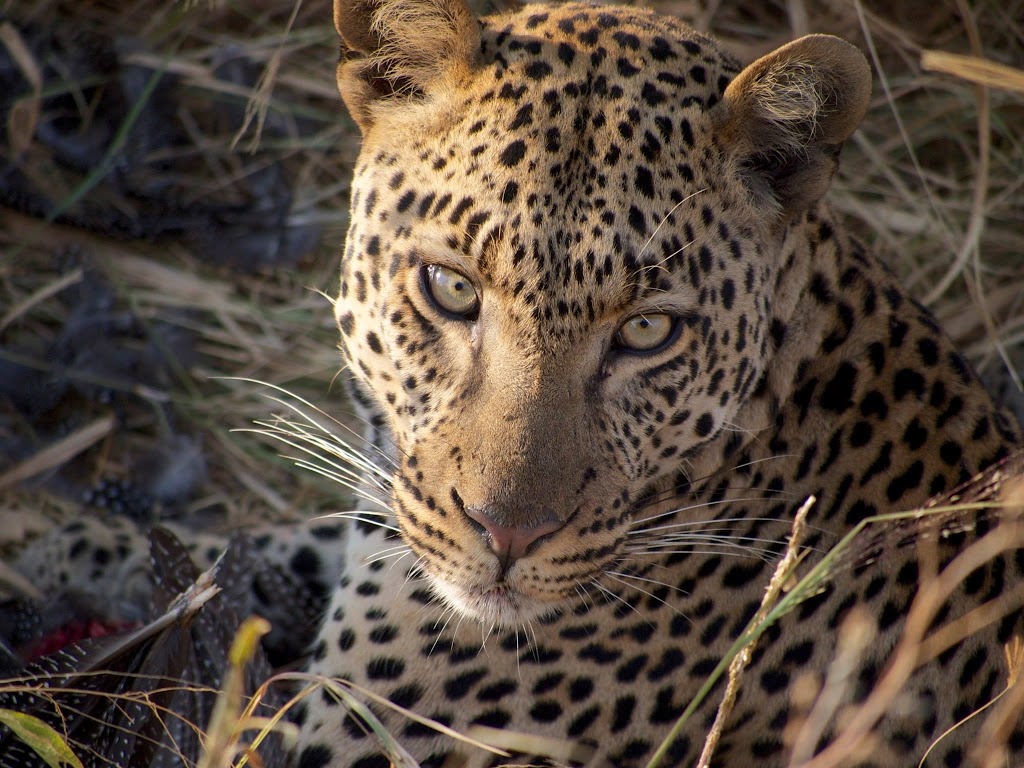 And, if you're wondering whether the hunt was successful, all you have to do is spot the guinea fowl laying in between the leopard's paws.
This is a separate hunt, as you can see the prey is different than the one above!
After a satisfying meal, the leopard is happily cleaning its paws.
A Leopard and its attempt at camouflage. But you simply cannot miss this beautiful animals in the Serengeti Plains.
Simba, in a very contemplative position, scoping the horizon in the Ngorongoro Crater
This lioness seems to also have just finished enjoying a meal in the bush.
A Lioness on the prowl.
Look at her beautiful lashes! What an innocent look!
And then we have "The Lioness Look".
A lone zebra.
Zebra herds are always cute and prompts an "awww" during the safari.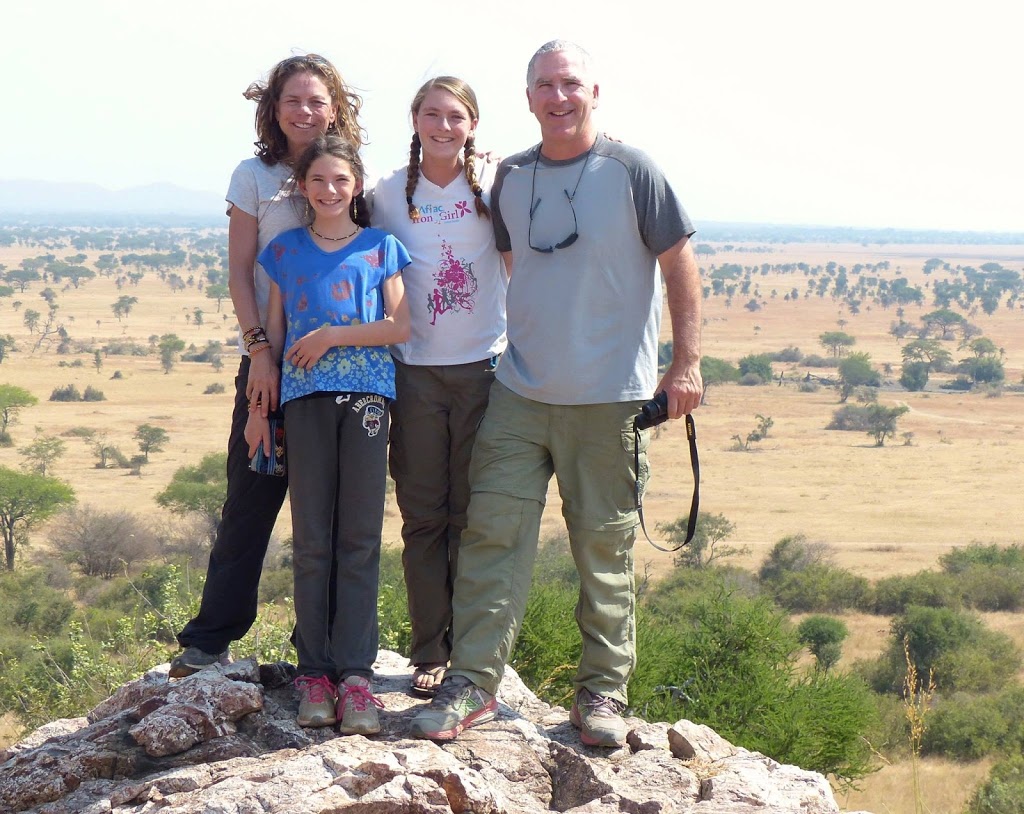 The Wonderful Weingarten Family!
Karibu tena, Welcome again to Tanzania!
For more Safari Packages information, please visit us at: